To avoid the most severe impacts of a changing climate, we need to achieve net-zero global greenhouse gas (GHG) emissions by 2050, with 45% of this reduction to be achieved by 2030. While many policy changes must be made to achieve this goal, to take substantive climate action it is fundamental to rapidly reduce the burning and use of fossil fuels. To maintain global temperatures at less than 1.5°C above pre-industrial levels, 80% of the known fossil fuels must stay in the ground. We must not pursue any further fossil fuel exploration nor construct any new fossil fuel infrastructure.

Climate action means urgently committing to and achieving a Fossil Free Future, in Ireland, in Europe, and around the world. We call for prospective democratic representatives of the Irish people to commit to a fossil free future by supporting the following five principles.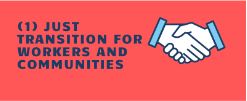 It is essential to ensure that the just and sustainable transition to a 100% renewable energy supply is clean, affordable, supports community ownership and does not lead to energy poverty. High-quality jobs must be created which offer family-sustaining wages and benefits and hire local workers. Communities transitioning from carbon-intensive industries should receive priority public support for their own clean energy projects.

Offshore drilling, which is ongoing off the Southwest coast of Ireland, has devastating impacts on local communities and marine health, producing toxic chemicals that accumulate in the seafood supply, and threatening Ireland's €7.8bn tourism industry and €1.1 seafood industry, which together employ over 230,000 people.

We must stop burning peat, coal and unsustainable biomass for electricity by 2025 at the latest and ensure that workers in carbon-intensive industries have new, quality employment and training opportunities in ecologically sound, low-carbon sectors. Furthermore, all peat extraction (including for horticulture) should end by 2025 with a just transition for workers and due regard for Turbary Rights.


To have any chance of limiting temperature rise to less than 1.5C, European countries must get out of gas by 2026. Constructing new gas infrastructure such as new gas plants, extending the domestic gas grid or enabling Ireland to export gas for the first time is counterproductive to the transition to renewable energy. It is crucial that no Liquefied Natural Gas (LNG) terminals are developed in Ireland. Continued investment in gas will result in fossil fuel "lock-in", where resources which could be invested in renewable energy are instead invested in unsustainable fossil energy.

Climate change knows no borders. We must end support for new non-renewable energy exploration and infrastructure outside Ireland, including ESB financing of coal plants in the Philippines. Ireland banned fracking in 2016 due to health and environmental impacts; we should ban the importation fracked gas from abroad and support the global movement for a fossil free future. The new iron law of energy development and generation must be: if you wouldn't want it in your backyard, then it doesn't belong in anyone's backyard.
Download the fossil free pledge for Ireland

"The level of climate activism globally demanding climate justice is something unparalleled in human history. We need to collectively strike while the iron is hot and hold our institutions accountable. We want all MEP candidates to commit to pushing for a Fossil Free European Investment Bank that 1) Phases out lending to fossil fuel companies and activities immediately and 2) Ensures that the EIB is focusing its resources on renewable energy investments. This is taxpayers money. We simply can't afford to be building any new fossil fuel infrastructure in Ireland or Europe." – Meaghan Carmody, Head of Mobilisation
Friends of the Irish Environment
"We can't afford to replace conventional fossil fuels with a dependence on imported fracked shale gas. We urgently need to embrace new technologies and the latest research tells us it's possible. We can become a leader in these new industries – if we have the political vision to do so" – AnneMarie Harrington

Gluaiseacht for Global Justice

"We have seen from the inspiring school climate strikes, the Extinction Rebellion civil disobedience and the Citizens' Assembly Climate recommendations that in most cases the politicians are lagging behind the general population in terms of climate action. It is time for us all to be brave, and signing the fossil free pledge is a first step to climate action for election candidates" – Eoin O'Leidín

Good Energies Alliance Ireland
Latin America Solidarity Centre

"Ireland's purchase of Colombian coal for energy production at Moneypoint is not only causing climate chaos, but makes Ireland complicit in human rights abuses taking place in Colombia where this coal is mined. We want to see Ireland put a stop to the importation of this coal on human rights grounds, and to stop burning coal for energy production" – Sian Cowman, Latin America Solidarity Centre and Stop Blood Coal Ireland.

"The communities Trocaire works with are on the frontlines of the climate crisis. An urgent increase in action is needed at all levels in response to the latest evidence from the Intergovernmental Panel on Climate Change. An excess of fossil fuels is one of the greatest obstacles to effective action". – Cliona Sharkey, Policy Advisor